"If you could bottle the essence of St. Mary's and sell it, you would make a fortune"
Our staff and volunteers are very proud of this particular compliment and that's how we like our visitors to feel after coming to St Mary's.  Whatever your reason for visiting us, you'll be met with a friendly welcome and given help, support and guidance as needed.
St Mary's Community Centre is situated on The Circle in the heart of Chequerfield in Pontefract.  The centre was opened in 2004 and is committed to serving the community and the wider district by providing a wide range of activities and opportunities for all.
A full and varied adult education programme takes place at the centre, offering encouragement and support to raise aspirations, remove barriers and create more opportunities and equalities within the community.  Our courses include IT, Maths, English, ESOL (English for Speakers of Other Languages), Accounts & Bookkeeping, Business Administration and Employability.
We are very keen on supporting healthy community activities and hold weekly sessions of Pilates and Tai Chi. Slimming World hold two sessions each Thursday.  Care to Talk (community mental health support group) run a workshop every Friday to support individuals in a social setting.  A varied range of creative courses feature on our timetable.
Children's activities include Dance & Acrobatics, Rainbows and Brownies and St Giles' Pantomime Society hold their rehearsals here throughout the panto season.
St Mary's is a superbly equipped venue for all sizes of business meetings, training sessions, workshops and conferences.  We offer these rooms at very competitive rates for both one-off or regular bookings and can supply laptops and Wi-Fi connection, multimedia presentation screens, flip charts, etc. The building has disabled access and toilets and offers free parking.
We offer a printing and photocopying service at very competitive rates.
St Mary's is just a short distance away from Pontefract town centre.  The area is easily accessible by road and is well served by public transport, with bus stops close by.  Secure, CCTV covered on-site car parking is provided to the rear of the building.
Please visit our Facebook page, St Marys Community Centre or Twitter account @stmarysccponte for further details, or give us a call on 01977 705341.  Alternatively, call in, have a look round and meet the team.  You'll be made very welcome!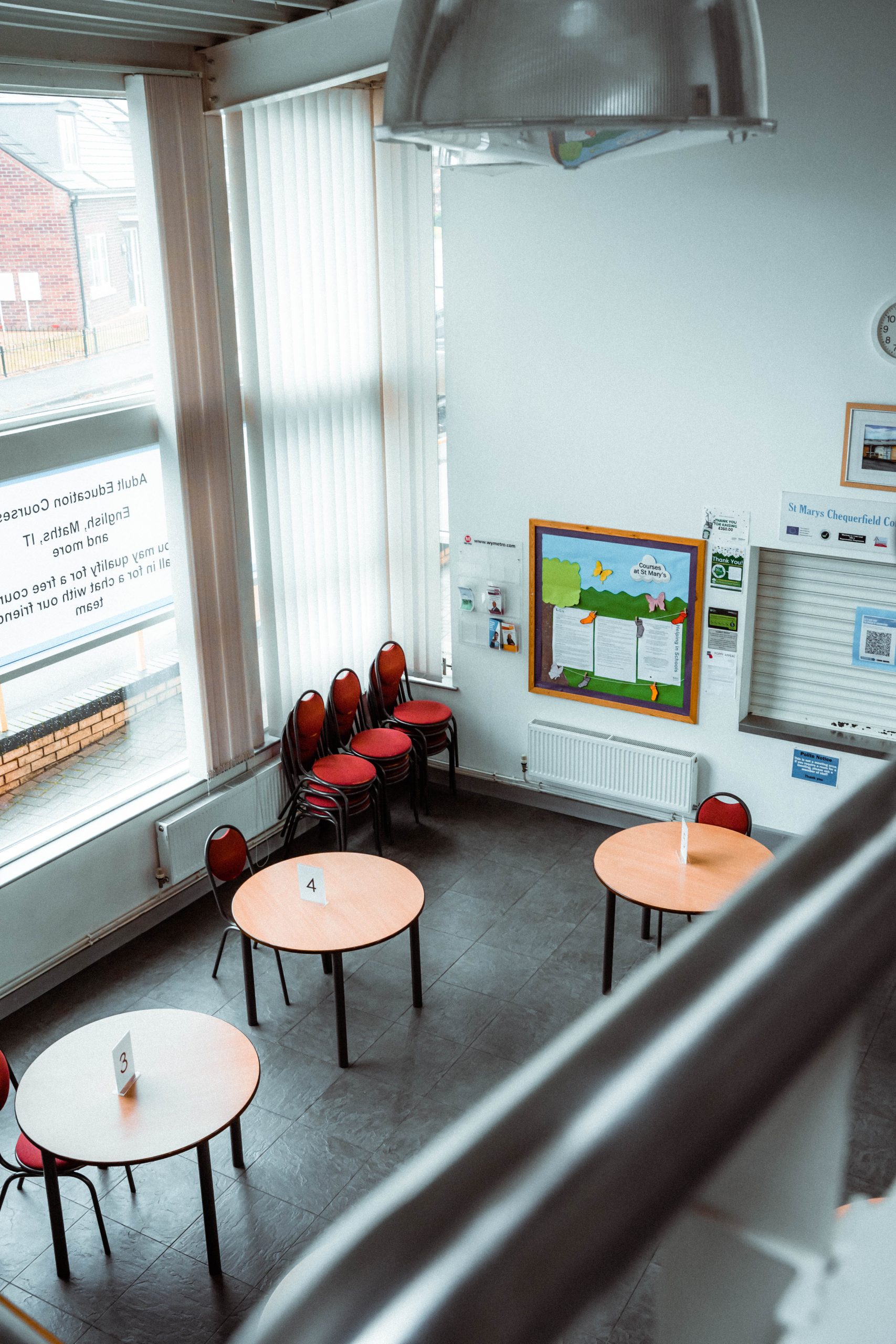 "If you could bottle the essence of St. Mary's and sell it, you would make a fortune"